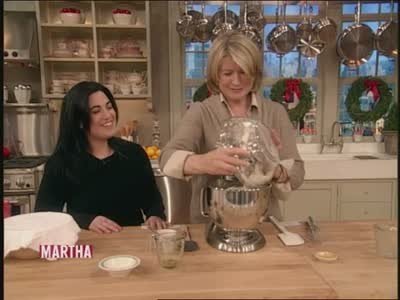 THE MARTHA STEWART SHOW 
December 2007 
Jennifer and Martha bake Sweet Cinnamon Flatbread  
Jennifer and Martha Bake Part Two
September 2022
Our very own Jennifer Behar was featured in the Atlanta Jewish Times. 
July 2022
CBS4 Miami and Lisa Petrillo Interview Jennifer Behar at the bakery. 
March 2022

Goldman Sachs 10KSB Helps Miami's Small Businesses Flourish 
March 2022 
Advice from Jennifer Behar, Founder/CEO in an interview with Failure Report
January 2022





Boston University Her Campus Magazine
Meet Jennifer Behar: The Queen of Business

Voyage

 MIA Magazine
Life and Work with Jennifer Behar

INDULGE MAGAZINE - FEBRUARY 2018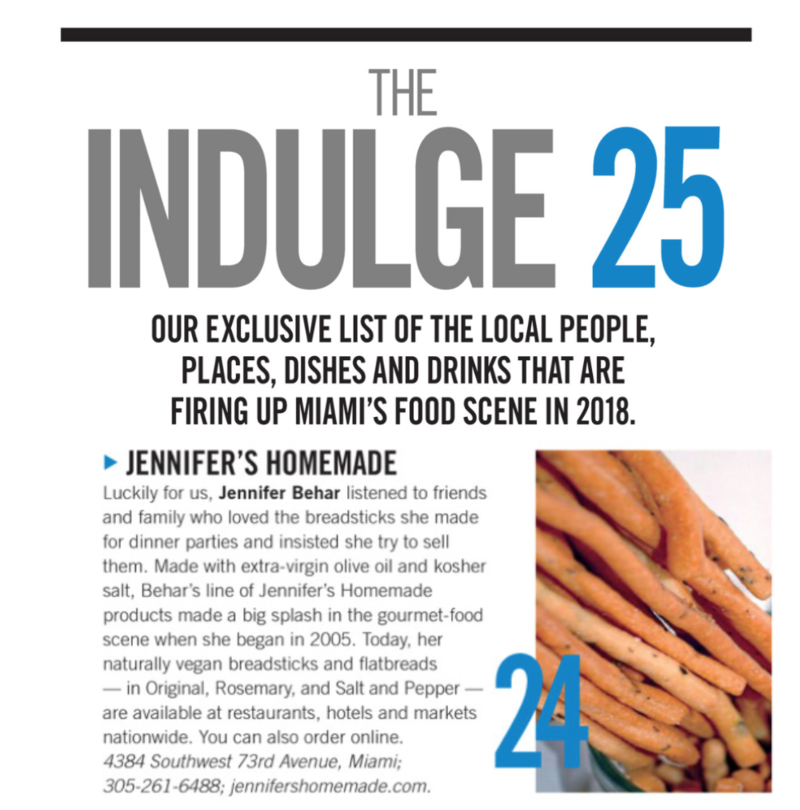 MIAMI HERALD ARTICLE - DECEMBER 2013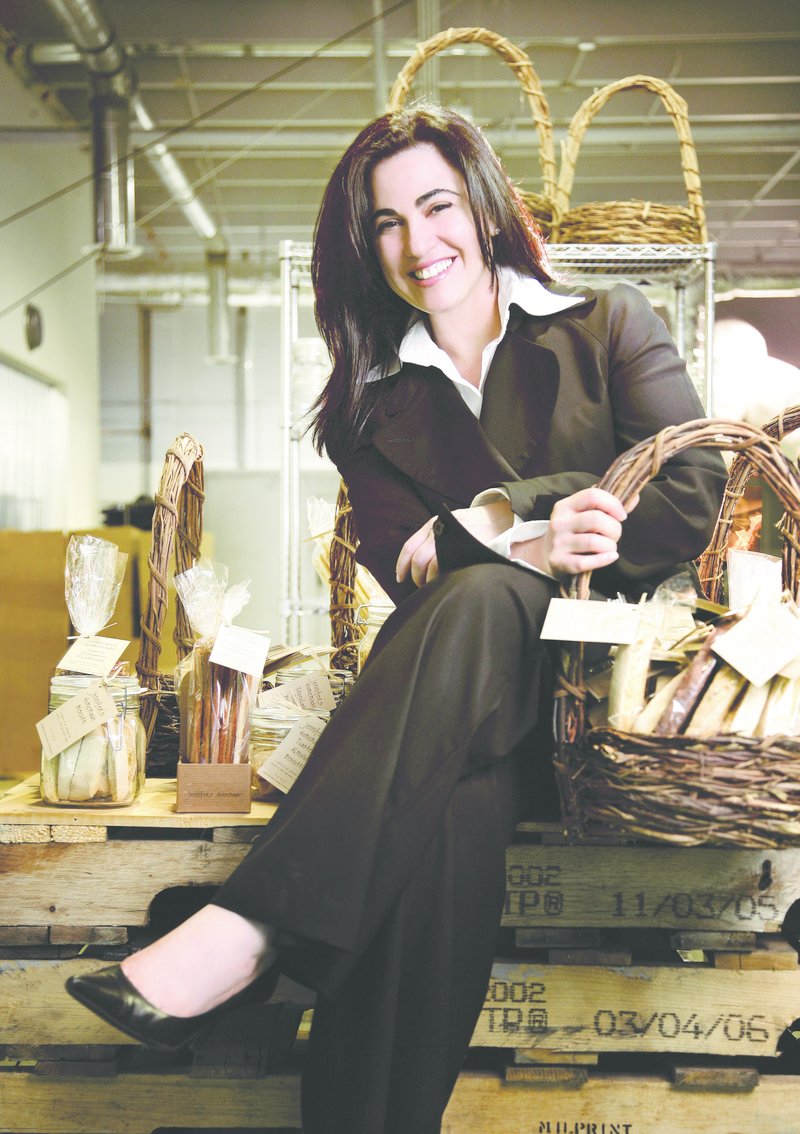 AMERICAN EXPRESS ADVERTISEMENT
Jennifer Behar and Jennifer's Homemade are in an American Express ad - - for AmEx's OPEN small business card.


MIAMI HERALD ARTICLE - NOVEMBER 2010

PILATES STYLE MAGAZINE - DECEMBER 2008
Holiday Gift Guide


THE MIAMI HERALD - OCTOBER 2008


NATIONAL PUBLIC RADIO  - HEAR & NOW - OCTOBER 2008
 

THE SITUATION ROOM WITH WOLF BLITZER ON CNN - OCTOBER 2008
 
 

THE NEW YORK TIMES - OCTOBER 2008
 
MIAMI HERALD - JULY 2008
CARD-CARRYING MEMBER
Jennifer Behar and her Miami baking business Jennifer's Homemade, are in an American Express as -- for AmEx's OPEN small business card.  The ad, now running in The Economist, features a gold card with her name and company name, and the heading "I own my business."
Behar, 40, got the card in July '05, when she incorporated.  In June '07, the former advertising and marketing exec filled out the "share your story" form on openforum.com, AmEx's business networking website.  She wrote about building her company, donating a portion of her profits to feed the hungry.  She wrote that she charges everything -- from flour to FedEx -- and love the discounts and reward points.
Marcy Shinder, AmEx's brand strategy and marketing VP, says Behar's story is "relevant and inspiring."
The ad campaign is slated to run in newspapers, magazines, biz journals and trade pubs.  Behar says she received no compensation, just the kick of national exposure.

BOCA RATON MAGAZINE - BEST OF BOCA & BEYOND - JULY-AUGUST 2008
Best Artisanal Food
It's hard not to like Jennifer Behar, the self-made Miami businesswoman and founder of Jennifer's Homeamde, who schemed up her business while stuck in rush-hour traffic one day.  Behar uses the best of everything to turn out a simple yet incredibly delicious array of baked goods: several varieties of biscotti, flatbreads and breadsticks.  They are all addictive, of course  Go local - eat biscotti made in Miami (on sale at Whole Foods and Fresh Market).  Plus, you can feel a little less guilty about eating all those carbs because 5 percent of all proceeds goes to charity.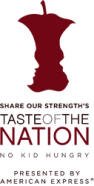 SHARE OUR STRENGTH'S TASTE OF THE NATION MIAMI - JULY 2008

AMERICAN EXPRESS OPEN FORUM 2008

MIAMI HERALD - FEBRUARY 2008
Festival Article

FOOD NETWORK SOUTH BEACH WINE & FOOD FESTIVAL - FEBRUARY 2008
American Express Grand Tasting
Moet & Chandon BubbleQ 

FLORIDA TABLE MAGAZINE - WINTER 2008

THE PALM BEACH POST - JANUARY 2008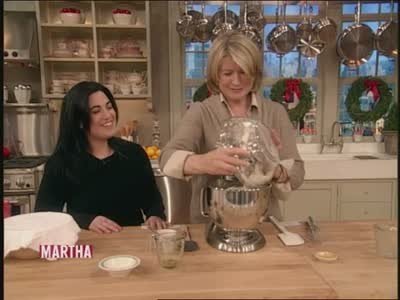 THE MARTHA STEWART SHOW - LIVE - DECEMBER 2007
Jennifer bakes Sweet Cinnamon Flatbread with Martha and shares her story.

THE BIG IDEA WITH DONNY DEUTCH - CNBC
December 2007 

NBC 6 - THE SPIRIT OF SOUTH FLORIDA - NBC NEWS
December 2007

CNN HEADLINE NEWS - COMCAST NEWSMAKERS
November 2007

HONEY SHINE BAKING AND MENTORING WORKSHOP FOR YOUNG GIRLS AT JENNIFER'S HOMEMADE BAKERY
November 2007

AVENTURA MAGAZINE - SEPTEMBER & OCTOBER 2007

SHARE OUR STRENGTH'S TASTE OF THE NATION MIAMI - AUGUST 2007

FOCUS ON SOUTH FLORIDA - MY 33 - JUNE 2007

JOIN US AT THE TABLE - RADIO SHOW - JUNE 2007

CBS 4 NEWS - JUNE 2007
National Hunger Awareness Day
Jennifer Behar and Jennifer's Homemade will be featured on a story focusing on the issue of childhood hunger in South Florida.

GREAT AMERICAN BAKE SALE - APRIL 2007

SOUTH FLORIDA TODAY - NBC 6 - APRIL 2007
Jennifer Behar will be a guest on the show sharing her story and baking biscotti.

DAILY BREAD FOOD BANK - MARCH 2007
Jennifer Behar joins The Board of Directors

SOUTH FLORIDA BUSINESS JOURNAL - MARCH 2007

TAMPA TRIBUNE - FEBRUARY 2007
Taste of The Stew - by Jeff Hocuk
Jennifer Behar could be the next Mrs. Fields.  The Coral Gables woman started the Jennifer's Homemade brand of biscotti, breadsticks and flatbread in her home.  Now it's features at Fresh Market, Wild Oats and Whole Foods.  She was at the Grand Tasting tent handing out samples of her treats that people were bragging about all weekend.

FOOD NETWORK SOUTH BEACH WINE & FOOD FESTIVAL - FEBRUARY 2007
American Express Grand Tasting
Jennifer's Homemade is proud to have helped rescue 4,200 pounds of food from The Food Network South Beach Wine & Food Festival.  Getting food directly to the needy children, homeless families and working poor who are hungry and cannot afford food.

LRM MAGAZINE - FEBRUARY 2007

ENTREPRENEUR MAGAZINE RADIO - DECEMBER 2006

GOURMET MAGAZINE - NOVEMBER 2006
Good Living
Tough as it was, we dd your holiday shopping for you this year - you can be sure your loved ones won't need the receipt. Jennifer's Homemade rosemary breadsticks are so delicious they're downright dangerous - plus, a portion of their proceeds goes to a local food bank ($7 for a 6 oz bag).

FOOD & WINE MAGAZINE - OCTOBER 2006
Crispy Treats
Jennifer Behar bakes addictive rosemary flatbread and breadsticks with exceptional olive oil flavor.

MIAMI HERALD - SEPTEMBER 2006
Talk of our Town


MIAMI HERALD - DECEMBER 2005